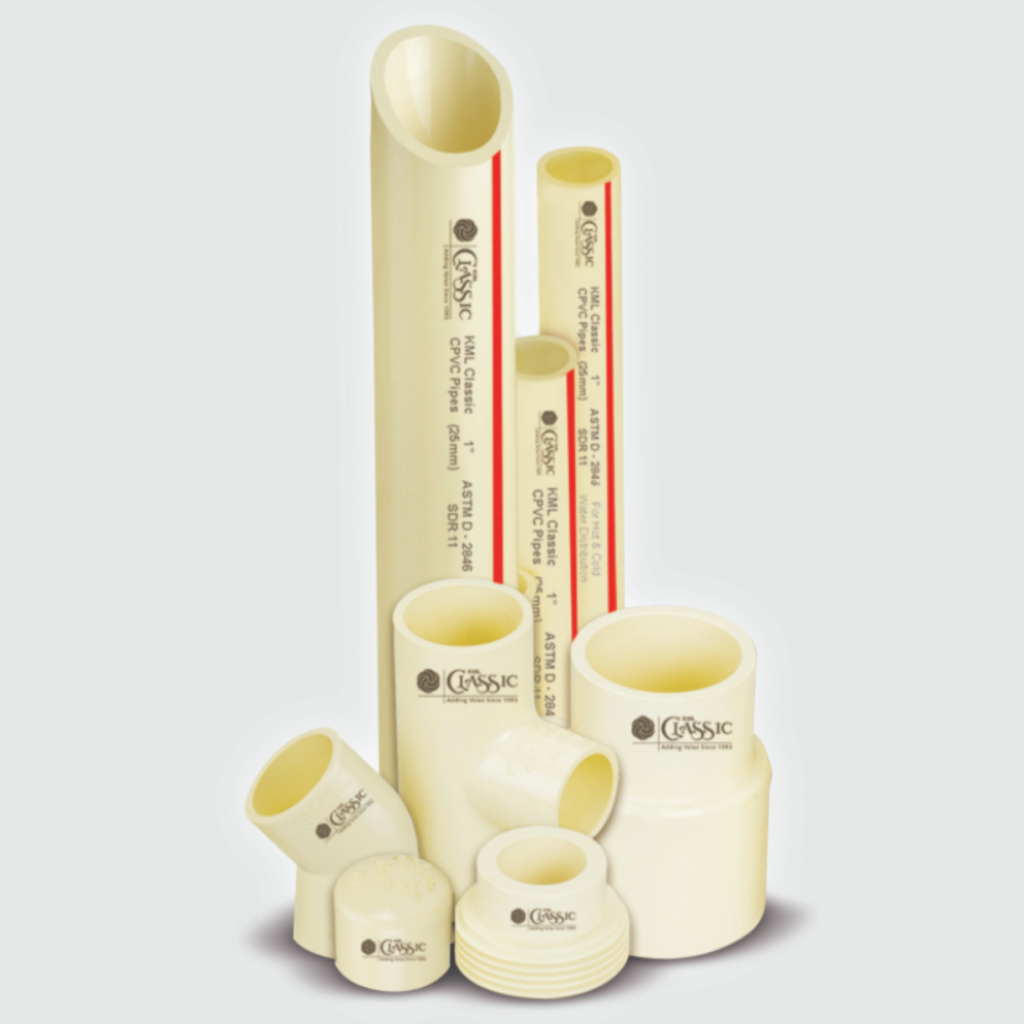 KML Classic CPVC Plumbing System
Applications –
CPVC pipes are used for hot and cold potable water flow in Residential Buildings, Commercial Buildings, Hotels, Educational Institutions, Swimming Pools etc. that require hygienic and uncontaminated supply of water. Because of better chemical and heat resistant properties when compared to other thermoplastic materials, they can be used in Chemical Factories & for other Industrial requirements too. For more Info contact BDFC Jain.
Free Flow UPVC Plumbing Pipes
Applications –
Kisan pipes can be used in Building Plumbing, Water Distributor Mains, Swimming pools, Salt Water Lines, Pipes for Hand Pumps, Industrial Process Lines like Dye Houses, Plating Industries, Sugar, Paper & Breweries, Coal Washing & Ash Handling, Aggressive/Corrosive Fluid Transportation, etc. For more Info Contact BDFC Jain.
Features –
Durable :
Stronger, resilient & longer lasting. Excellent chemical & corrosion resistance.

Light Weight :
Easy to transport and install.

Easy Installation :
Optimum flow rates and low frictional losses.

Smooth bore :
Excellent outdoor weathering performance due to specially blended UV stabilized compound.

Low Maintenance :
Superior resistance to most of the chemicals & free from rusting, pitting, scaling, and corrosion making the system almost maintenance-free.

Long lasting :
Hence saves replacement costs.
Frequent Search:
Kisan Pipes in Bahadurgarh, KML Kisan CPVC Plumbing Systems, Free Flow UPVC Plumbing Pipes, SWR Pipes and Fittings in Bahadurgarh, Kisan Pipes shop in Bahadurgarh, BDFC Jain, HDPE Pipes, Rigid UPVC Pipes, Kisan Classic Plumbing System, Moulded Fittings, Solvent Cements, Banarsi Das Fakir Chand Jain, Kisan Pipes Fittings, Kisan Pipe Items in Bahadurgarh, Kisan Piping Products near me.

| | |
| --- | --- |
| Sanitaryware Items | Taps, Faucets, Toilet Seats, Bidets, Urinals, Seat Covers, Washbasin, Vanity, Pedastal Stand, Faucets, Divetor, Kitchen Sink, Sink Mixture, Long Body Taps, Wall Mixture, PTMT Taps, Connection Pipes, EWC (European Water Closet), Cistern, Health Faucets. |
| Mild Steel Fittings | Socket, Union, Cross, Tee, elbows, tees, Y, crosses, couplings, unions, compression fittings, caps, plugs and valves, Elbow 45º, Elbow 90º, Reducer Tee, Flanges, Hex Head, 180º Return, Barrel Nipple, S/W Cross, Union, S/W 90° Elbow, Butt Weld Fittings |
| Fire Accessories | Fire Hose & Fittings, Fire Hydrants System, Instantaneous Adaptors, Hose Component, Adapters and Caps, Hose Reel and Cabinets, Pillar Hydrants and Nozzles, Storz Coupling, Threaded Adapters, Blank caps and chains, Flange Adapters, Pumper Adapter, Dividing Breechings, Collecting Breeching, Foam Equipments, Fire Safety Equipments, Right Angled Flange, Turn down Flange, Straight Valve, Gate Valve, Pressure Regulating Valve, Pressure Restricting Valve, Air Release Valve, Fire Pressure Gauge, Dry Riser Fittings, Gun Metal Hose Reel Nozzle, Rubber Hose, Flange Adapters. |
| Pipes | uPVC Pipes (Unplasticized Polyvinyl Chloride), CPVC Pipes (Chlorinated Polyvinyl Chloride), PP-R Pipes (Polypropylene Random), GI (Galvanized Iron) Pipes, Conduit Pipes, Cast Iron Pipes, Agriculture Pipes, PVC Suction Hose Pipe, PVC Steel Wire Hose Pipes, Hose Fittings, Garden Pipe, Carbon Steel IBR Pipes. |
| Pipe Fittings | Coupler Tee Reducer,Coupler MTA, Cross Tee, Elbow 45º, Elbow 90º, Reducer Tee, Union, FTA, Tank Nipple, End Cap, Reducer Elbow 90º, Brass FTA, Brass Elbow, Ball Valve, Brass Tee, Brass MTA, Long Bend Metal Clamp, Step over Bend, Reducer MTA, Reducer FTA Brass Pipe Clip, Solvent Cement, End Plug, Reducer Bush, Reducer MTA Brass, Union Ball Valve, Concealed Valve, Tank Connector, Short Bend, Wall Mixture Fixture, Y-Strainer, Bye Pass Bend, Hex Nipple, Ball Valve (Assly), Ball Valve (union type), Flange Adapter, Blind Flange, Equal Tee, Reducing Tee (F), Reducing Bush, Elbow Holder. |
| Pumps & Motors | Monoblock Pumps, Induction Motors, Centrifugal Pumps, Submersible Pumps, Shallow Well Pumps, Heavy Duty Pumps. |
| Flanges | Slip On Flange / SO Flanges, Weld Neck Flange / WNRF Flanges, Blind Flanges / Blank Flange, Lap Joint Flanges, Threaded Flange, Threaded Raised Face Flange, Socket Weld Flanges, Plate Flanges / Flat Face Flanges, Ring Joint Insertion Flanges, Male-Female Flange, Reducer Flanges, Long Neck Flanges, PVC Flange, MS Flange, Forged Steel Flanges, SS Flanges. |
| Flour Mill | Domestic Aata Chakki, Cabinet Style Flour Mill, Square Aata Chakki, Round Aata Chakki, Table Top Flour Mill, Automatic Flour Mill, Semi Automatic Flour Mill (आटा चक्की) |
| Others | Water Storage Tank, Ball Valve, GI Sheets, Bath Fittings, Mainhole Covers, Bathroom View Mirrors, Forged Steel Fittings, GI Barbed Wire (Kaate waali Taar), Kitchen Sink, Water Meters, Foundation Bolts, Chemical Earthing Rods and Strips. |